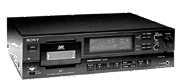 Dunedin Media provides DAT machine rental and portable DAT recorder rental If you have DAT tapes and you need to do a DAT tape conversion or play a DAT tape for any reason.
Our Sony DTC-A7 has analog RCA inputs and outputs as well as RCA SPDIF digital input and output. The digital input can be set to 32K, 44.1K, or 48K and the machine will play all three digital formats as well.
Our rental area includes Dunedin, Palm Harbor, Oldsmar, Safety Harbor, Clearwater, Largo, Seminole, St Petersburg, Pinellas Park, Tarpon Springs, and the greater Tampa Bay area. DAT Machine rental rate is $50 for 3 days, $100 week, $300 deposit.
Dunedin Media also provides digital DAT tape conversions to any audio file type you need.