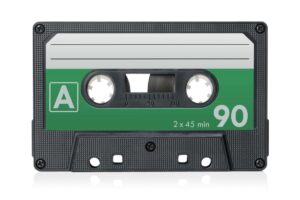 Cassette to digital? Well you've been cleaning out a bunch of old boxes and you found some old cassettes that you would love to save but you don't have a cassette deck to play them. At Dunedin Media we can convert your cassette to digital which can then be put onto an mp3 CD or any other media such as a thumb drive or SD card.
When converting to mp3 files, the bitrate is critical to the sound quality. As such, we recommend a minimum of 256kbps for your mp3 files.
Given the age and format, cassette tapes can many time sound wobbly or watery. Since this is not something that can be easily corrected, we will contact you and let you make the decision on whether or not to proceed.